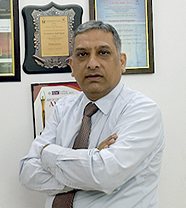 Dr.Kailash Naath Gupta
MD,DNB,MNAMS,FCCP(USA),FIMSA,FIAB,FIAMS,FIACM
Visiting Fellow,University of Pennsylvania, Philadelphia,USA
CHEST,CRITICAL CARE(ICU) & SLEEP SPECIALIST
INTERVENTIONAL PULMONOLOGIST
Dr. Kailash Naath Gupta, a consummate and accomplished Pulmonologist, Chest & Critical Care Specialist and an expert in Sleep disorder, who was conferred with "Healthcare Excellence Award for Pulmonology" by World Wide Achievers & prestigious "Rashtriya Ratan Samman" by Aditya Media Group, and reckoned to be the "Best and most dependable Pulmonologist" in Delhi by Indian Association of Entrepreneurs & Service Providers in 2014.
With more than one and a half decades of experience in Clinical practice and Research, Dr. Gupta - a founding Chairman of Centre for Chest Diseases (CCD) in Delhi, has carved out a sterling niche for himself in Pulmonology and Respiratory Critical Care. He has acquired proficiency in diagnosing and treating with curative intent every nature of Respiratory problem including COPD (Chronic Obstructive Pulmonary Disease), Multi Drug Resistant Tuberculosis (MDR and XDR TB), Asthma, Sleep Disorder, Interstitial Lung Disease and Occupational Lung Diseases, etc.
Dr. Kailash Naath Gupta is well versed in managing cases of Organ Transplant, its post operative complications and other Autoimmune conditions pertaining to respiratory involvement and dealing with critically adverse cases in the ICU with Severe Sepsis and Multiorgan failure. He possesses considerable expertise in diagnosing and treating Respiratory diseases, Respiratory failure and other complicated chest infections, besides attending and rehabilitating critically ill cases both medical and surgical patients including post-operated and trauma-affected.
Dr. Gupta compassionately takes care of patients who need life supports such as Mechanical ventilation and Non-invasive ventilation as well as provides a long-term & comprehensive medical care for chronic respiratory ailments.
A post graduate from National Institute of Tuberculosis and Respiratory Diseases, New Delhi, Dr. Kailash Naath Gupta has received rigorous trainings and undertaken an array of advanced courses like Advanced Cardiac Life Support organized by American Heart Association at Apollo Hospital, Fundamentals of Critical Care Support (FCCS), Primary Trauma Care Course (PTC), Indian Diploma in Critical Care (IDCC) . He underwent training in Interventional Pulmonology procedures encompassing Bronchoscopy, Endobronchial Ultrasound, Medical Thoracoscopy, Lung Plethysmography, Polysomnography from USA & Greece along with training in Lung transplant from France.
As a Pulmonologist he has delivered numerous lectures in conferences and workshops in India, and has several research papers to his name. He also successfully conducted a number of workshops and CMEs which were grand success nationally.
Dr. Gupta has notched up international exposure in Pulmonology and Respiratory Diseases through his active participation in workshops and conferences in Japan, Europe and Americas.
At present, working as a Senior Consultant, Respiratory and Critical Care in Venkateshwar Hospital, Artemis Hospital, Maharaja Agrasen Hospital and BM Gupta Hospital. He has made a remarkable mark in various renowned health care centres comprising Columbia Asia Hospital, Fortis Hospital, Apollo Hospital, National Institute of Tuberculosis and Respiratory Diseases, and so on and so forth.
As a Visiting Fellow of Interventional Pulmonology, Philadelphia, USA and a Fellow of prestigious American College of Chest Physicians, Dr. Gupta has been awarded a constellation of Fellowships like Medical Thoracoscopy and Pleuroscopy from Greece, International Medical Sciences Academy, Indian Academy of Clinical Medicine, Indian Association of Bronchology, IMA Academy of Medical Specialities, etc. Besides that he is also a well-received member of various internationally celebrated institutions like World Association of Bronchology and Interventional Pulmonology, European Society of Intensive Care Medicine, European Respiratory Society, Indian Medical Association, Indian Association of Bronchology, Indian Society of Critical Care Medicine, American College of Chest Physicians.
Being a philanthropist and humanist above all spiritual, Dr. Kailash Naath Gupta has set up a Welfare Trust for Transgender community, popularly known as Hijra ,who receives affordable healthcare services and made aware of the several health related issues. The Trust aims at eliminating discrimination in India's healthcare system against Transgender community in compliance with new laws which ensure equal treatment. The objective of the trust is to provide inexpensive and quality healthcare services to BPL card holders and War widows through an innovative and integrated health care model.
He has founded Centre for Chest Diseases, located at Janakpuri, Dwarka and Najafgarh, New Delhi, with an end to make respiratory health care affordable and accessible to the lowest strata of the society for improving quality of their lives. Dr. Gupta now and again organizes health camps and awareness programs in slums and suburban areas, besides conducting health talks within the corporate circle at regular intervals.